"We are ready and prepared to face the challenges the future holds!"
Kai Schuettke, Vice President STI Freight Management Europe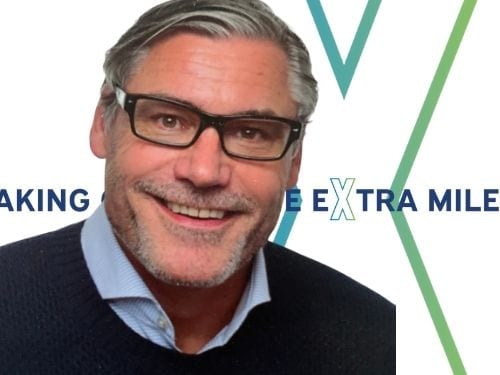 We had the opportunity to chat with the company's
Vice President, Kai Schuettke
and talked about his journey from school graduation to growing into a leader of one of the top logistics companies in Europe. He shares insights with us about the company's culture, growth and challenges, the importance of digitalisation as well as how he anticipates the future of Freight Management and Logistics.
Tell us a little bit about yourself, your current position and your business background to help the audience understand who they are "reading about".
I was born in the beautiful city of Hamburg. After finishing high school, I started a two years apprenticeship with a large international forwarding company and worked with them as a forwarder for further two years. As I had the strong ambition to learn more, I completed a bachelor's degree in business administration – Specialisation Logistics, Trade and Marketing in the city of Kiel. During my studies I had the possibility to work with a logistics company to gain experience and go to New York City for three months. That fantastic experience I will never forget! Starting to look for a job while I was completing my bachelor about 30 years ago, I saw a job advert from HAVI in Duisburg. I felt really impressed about how they presented themselves with regards to quality services, processes and above all their company culture. I was so interested in working with them that I was willing to leave Hamburg, finally applied for the position of "Assistant to DC Manager", was successful and moved to Duisburg. Within HAVI I had the opportunity to develop my career successfully and held several international Senior Manager positions. In 2012 I was then promoted to my current position as the Vice President of STI Freight Management. After 9 years with STI I can still say that I am very happy about working with this fantastic international company.

Why did you choose to work in the logistics industry and what makes it so interesting for you?
This can be answered very easily. As I mentioned I was born in Hamburg and already as a young boy I was very excited whenever I visited the Hamburg Port with my parents. Seeing all the logistics activities going on, big international container vessels, trucks, and trains being unloaded or seeing the big warehouses, really impressed me. I guess today you would say that I was interested in the whole Supply Chain. From the beginning, I liked the challenges one faces when working in Freight Management, which guarantee that no two days are ever the same. Most of all though I enjoy finding and providing best solutions to meet the complex demands of our clients to create an even better customer experience. May it be the requirement to provide a higher level of visibility and transparency by digitalization or to take more responsibility for our planet through delivering even better sustainable solutions than in the past. This all makes it very challenging and interesting at the same time.

Coming back to your position with STI Freight Management – how would you describe STI as a company. What does it stand for?
For more than 37 years STI Freight Management delivers best in class temperature-controlled road, sea/air and customs services in Europe. I am very proud to say that the entire European STI team of more than 250 Employees proves daily that they are very committed to deliver the highest quality services according to our motto "Taking quality the extra mile" to all clients. Fostering diversity, equity and inclusion as well as empowered and happy people programs, talent management, apprenticeships and trainee programs are key to us. A very ethical behaviour towards all partners and in particular our hauliers is a given at all times. Our values are reflected in our company culture and are visible in everything we do on a daily basis.

You have shared a lot of insights about the values of STI. We all know that the logistics industry has been challenged a lot over the recent years. From your point of view, what has changed over the years and what do you envision for the future? And above all, how is STI preparing to master the challenges and possibly even stay ahead of the market?
You are right our Freight Management / Transport Industry has had to face a lot of changes over the recent years like many other industry segments. Especially during the last three years and now even under the impact of the COVID-19 pandemic our supply chain customers and we as Freight Managers have recognised that the demand for real time Supply Chain Data visibility and transparency is much higher than ever before. This means that the investment in existing and future digital solutions is the right strategy to provide the required solutions and services to all of our customers in the years to come. This includes for me also to pro-actively take even more responsibility for our planet and continue our digital transformation strategy over the next five years in particular.
Also for logistics companies it becomes more and more important to boost their digital exposure by using social media channels to gain recognition and connect with their target audiences. We know that this is vital for you too. Why is it so important to you and what is your vision about how STI can position itself in future?
It is important because in today's world, and in this case I am not necessarily only talking about the business world, it is very important to connect or to be connected as much as possible to the right network of STI stakeholders. In my opinion the best way or may be even the only way to achieve this optimal digital network connection is to use social media even more in future.

Talking about positioning STI and putting across our values and vision: Sustainability is one of the major pillars of the STI Strategy. How does STI Freight Management contribute to reduce the environmental impacts? What measures do you have in place to support the groups aim to become more sustainable? What are you planning for the future?
All of us are aware how important it is for all nations to provide more sustainable and innovative solutions to decrease C02 emission and this is of course also at the heart of our STI strategy. We are in close and regular contact with all stakeholders to exchange about new and more sustainable solutions and services to ensure that we protect the environment. We will do so by further reducing our empty kilometers. I am happy to say that we have already, in comparison to the industry's average road transport empty km ratio of 20 %, achieved an empty km ratio of 13-15% for some of our customers. Efficient transport planning measured by truck utilisation is equally important. The use of digital calculation tools that provide real-time information about the transport status allow us to provide predictive estimation of arrival times (ETA). This leads to shorter waiting times for our trucks and by that reduces the running time of cooling machines = less CO2 emissions. Expanding our service portfolio for Alternative Transport Modes (= ATM) as well as partnering with external Universities and organization to learn more about alternative fuel solutions, e.g. LPG, CNG, electric and hydrogen, will help us to identify further options to reduce our environmental impact.

Thank you for sharing all the interesting insights so far. If you look back to the past twelve months what do you think was the biggest accomplishment of the company?
For sure what we achieved as a whole European team during the COVID-19 pandemic.
2020 as well as the beginning of 2021 have been truly exceptional requiring significant efforts and adaptations not only from a business perspective, but also from a personal perspective. When I stop and look back at what we have all gone through I am proud of our teams and how we have been able to adapt and remain resilient during these challenging COVID-19 impacted times.

When all of our European teams had to start working remotely from home, I had to take a deep breath though as this was a completely new situation for all of us. There was nothing to worry about though as everyone did and still does a great job and the very positive feedback received from our customers confirms that as well. This success is also based on the fact that we were able to implement several new digital solutions to make working from home possible without any interruptions. At the same time we put hygiene safety measures in place at each STI office to keep our staff safe at all times.

Talking about teams, I must say that I am also very happy about how well we have cooperated within our lean STI Freight Management Leadership Team (FMLT). Having Bertrand Moyer (Regional Director Southern Europe & Managing Director STI France) and Simon Gröne (Senior Director Finance, Global Freight Management) by my side is reassuring. As a team we have proven how efficient we are when decisions have to be made fast. Together we have done a great job in cooperating with our local Managing Directors by being transparent and communicating effectively.
The past 12 months possibly have been the most challenging ones we ever have had to face as a group, and yet, with the support of all employees, we are here, taking quality the extra mile in everything we do.

Taking another look into the future, how do you think the logistics industry will evolve? Is logistics a growing industry?
Yes, I definitely think so. The demand of our supply chain customers and suppliers for real time Supply Chain Data visibility and transparency, as well as more digital services and sustainable solutions will continue to grow. This is a great opportunity for STI because we have already considered these developments in our comprehensive Strategy Plan. We are looking forward to the journey ahead.
Let's get "personal"
About yourself in a few words
What is your personal motto in life?
- Have always fun in what you are doing and always be an authentic person.

What talent do you wish you had?
- Painting

What are the words you use the most?

- Good
What historical character do identify yourself with?
- My Mother, she was an incredible strong, positive and humorous person
Your favourite musician?
- At the moment Metallica and Red Hot Chilli Peppers
A book that you would recommend?
- From Cormac McCarthy: The Road

Your favourite dish?
- Steak with fries; salat and a glass of red wine
Ideal place to lose yourself on vacation?
- At the beach with my family and friends, doing a lot of sports activities together
What makes you laugh?
- A good joke and a funny day to day situation

A moment of happiness?
- Good times with the entire family and friends having a long barbecue