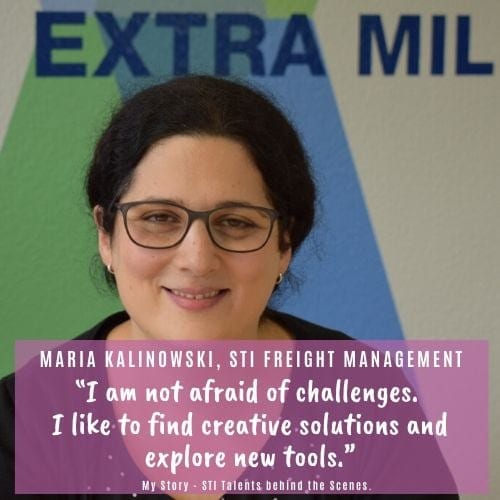 Maria's journey as Controller with STI started in 2011. As member of the Finance Team of STI Freight Management GmbH she works on a European level. She is in daily contact with our entities all over Europe which makes her job pretty interesting. As a "part-time working Mum" she is happy about the opportunities she has within STI to balance both her professional and private life. Thanks for sharing your story with us Maria.
Since when are you working with STI?
I am working with STI for nine years now.
What made you decide to apply for a position with STI in the first place?
Before I joined STI in 2011 I worked with our parent company HAVI Global Logistics in the Central Controlling department from August 2004. During my time at HAVI I became a Mum and went on maternity leave. It was always my plan to come back to work part-time. At the same time, STI was looking for a Controller and Simon Gröne, my current manager, had no concerns to have a part-time working Mum in his team. So I happily took on the job with STI which gives me the possibility to do both – work in my job and care for my family.
Which position did you originally apply for?
Controller at STI Freight Management and this is the position I am still holding today.
Please describe your main responsibilities.
I give controlling support to our European Network, e.g. during the Reporting and Budget process. I am in particular helping "my" local STI entities and run different analyses of group figures. "My" local STI companies means that I in particular work with our entities in France, UK, Spain and Sweden.
Apart from supporting our entities, I administrate our Oracle© Essbase database (a multidimensional database for the consolidation and analyses of our financial data) and maintain our CRM Tool Salesforce© in cooperation with our STI Salesforce Superuser Team. At the same time I strongly support our STI FM Market IT team responsible for all IT-related projects and activities on our digital journey called "STI reloaded – Let's digitize".
Last but not least I am concentrating on our BI Tool by introducing it to our European teams and developing it further to utilize it best for STI. The BI tool enables us to easily create reports and dashboards to get an overview about the development of our business to create detailed analyses and derive actions out of it.
What are the main goals you want to achieve?
Establish the BI Tool as an important source of information for all and to continuously develop it further and adapt it to the needs of the users. By using this tool we will be more efficient and can easily give information about certain business segments, customers and transports for example. Despite that I am of course also continuing to work reviewing and improving our tools and processes.
How do you want to achieve your goals?
In addition to the already available data in our BI Tool more financial and transport related data from our Transport Management System CarLo® will be integrated to enable us to create reports with even more relevant information to assess our business. Among others, the development of additional dashboards and integration of Salesforce® data in the BI-Tool will be my next tasks. I have many more ideas what to do with the BI-tool in future and I am looking forward to work on these.
Looking at your expertise and experiences, what and how do you think you can best contribute to STI?
I am not afraid of challenges, I like to find creative solutions and explore new tools as well as techniques like agile working methods. At the same time I like to share my work knowledge and gain new experience to the benefit of the company.
What are the main challenges you face in your job?
Often a lot of tasks run in parallel and time is always limited. But I guess a lot of colleagues know these situations. With regards to the usage of our BI Tool and CRM Salesforce© it sometimes is challenging to get all colleagues on board to use them. In the end it all comes down to constantly putting across the benefits for all to make it work. But I can see progress, which is really good.
What do you like most about your position?
It never gets boring. There are always possibilities to actively contribute to interesting projects and initiatives.
What do you like most about STI?
Working with so many nice colleagues from different departments and countries. Also, we have a great finance community, I like to be part of that.
And the best thing is, that some colleagues have become friends. :)