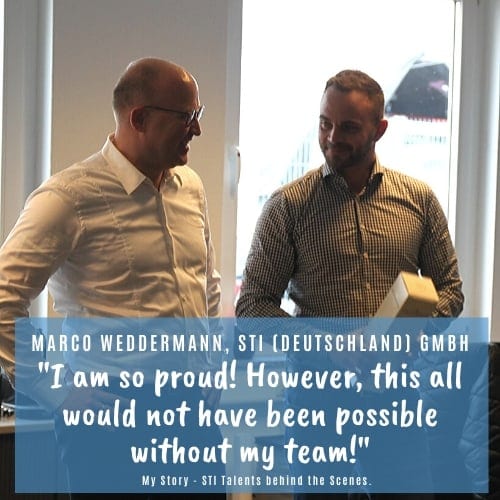 What is this award about?
This award recognizes the most outstanding performers across STI, HAVI and The Marketing Store. To win a "Circle of Excellence" award, an employee must have consistently and positively impacted our customers, our people, our financial outcomes, or other key aspects of business performance over time within the scope of their role and job responsibilities.

Our colleague Marco, Leader of our STI Fast Lane and Pharmaceutical Operations Team was suggested to the Executive Leadership Team of HAVI by Drazan Malesevic (Managing Director) and Oliver Exner (Senior Manager Operations) of STI (Deutschland) GmbH as Marco and his team were and still are:

• very dedicated and passionate,
• knowing the needs of the customer
• bringing up innovative ideas
• working together very closely and trustfully,
• building trust and credibility within and across the stakeholders,
• delivering sustainable and qualitative results
• driving for growth of the business






How was it to receive this award?
As Marco said, he never ever expected such a recognition and when Oliver Exner, his supervisor asked him to come to his office to talk about an important issue and the meeting then was joined by Drazan Malesevic and Marion Ropertz, HR Manager, he did not feel particularly comfortable as he had no idea about the reason for this meeting. He learned very quickly though that there was nothing to worry about. When Marco finally was told why they all got together you can surely imagine how speechless he was.
"It felt and still feels totally unreal and I am overwhelmed and very grateful for this recognition. I am so proud about this achievement. However, this all would not have been possible without my team and a big thank you goes to each one of them as well! They are a fantastic team and our STI Fast Lane Service offers us so much room for further development. We are already working on new ideas", Marco says and smiles.

When asking Drazan Malesevic and Oliver Exner why they nominated Marco the answer was pretty clear and said it all: "Mr. 150 % was not just an empty promise written on the White Board in my office by Marco when we sat together to talk about his individual targets beginning of 2019. He proved it every mile of the way and is constantly on the "fast lane". Marco is such a motivated and engaged and in particular focused guy that there was never a doubt for me to nominate him. I am very happy to have him in my team as it is a real pleasure to work with him," Oliver Exner says. Also Drazan Malesevic can confirm this statement "It is fantastic to have people on board who bring fresh and innovative ideas to our business. No one should ever hesitate to bring thoughts forward as we can never know what we can create out of it. To see how the STI Fast Lane developed since we first started is amazing. Great job Marco and his team!! Congratulations!".


We are all very happy and pleased for Marco and his team! And that HAVI recognized them out of the entire HAVI global group of companies is simply amazing. STI team on fire!