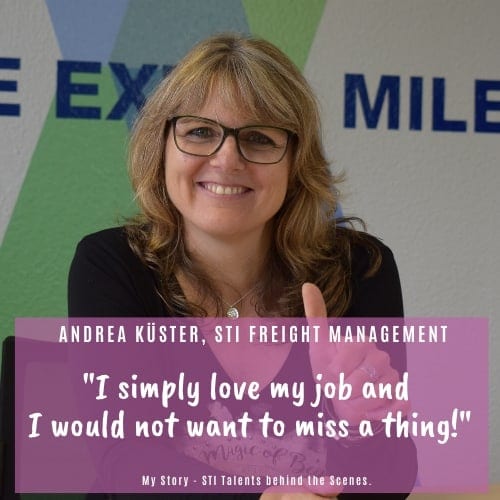 What a journey - 20 years ago Andrea began her adventure with STI Freight Management in Germany and her journey with us is kind of unique. Since she initially started as Secretary to the Managing Partner her role continuously developed and offered her possibilities to personally grow and gain a lot of experience. Today she holds an even more interesting position and no day is the same, which makes the job so interesting! Thanks for sharing your story Andrea.
Since when are you working with STI?
Initially I started in December 1998 , but had a one year "STI break" as I went to work in the UK for a while as I simply love the country. Luckily I was welcomed back to my old position afterwards. This is why I celebrate my 20th anniversary this year and not 21st.

What made you decide to apply for a position with STI in the first place?
I moved to a new area to live with my former partner and was looking for a new position. STI's job advert tackled my interest so I applied.

Which position did you originally apply for?
Secretary to the Managing Partner, who at that point was Horst Rauscher, who some may remember.

Which position do you hold today?
Today: Specialist European Business Support and Corporate Communications. My position constantly changed in a good way over the years. I moved from Secretary to Executive Assistant and today I am even in another different and more interesting position. I guess due to the fact that my position constantly evolves and through that me gaining more responsibilities as well as knowledge is the reason why I am with STI for such a long time. I am still learning so much every day!
Please describe your main responsibilities for your position.
Wow, that's going to be tricky as my position is so diverse that it is hard to just summarise it in a few words. No day is the same. Let me try. My main responsibilities are to support the Vice President, Kai Schuettke, of STI Freight Management as well as my colleagues from STI Freight Management. At the same time I am in a team of two with my colleague Esther Galeote, responsible for all Marketing and Corporate Communications activities within the STI European Network and support the local entities where needed. In addition I am a member of European teams and organise meetings and events. My job includes a lot of communication and organisation and this is what I really like.

What are the main goals you want to achieve?
I always aim to give the best support to everyone I work with as only as a team we can move forward. When it comes to the Corporate Communications part I would like to achieve that our STI brand is going to become more and more recognizable and important on the markets. We are offering outstanding services in Europe so lets show the world who we are.

How do you want to achieve them?
By being in constant contact with my colleagues and exchanging about what is on the list. Trying to further develop my skills and knowledge to be able to use them for my job. In particular Esther and I are in constant contact to achieve our Marking goals.

With your special experiences, what and how do you think you can best contribute to STI?
Well, I guess I am one of the STI employees who really knows the company very well as I am with the company for 20 years now. When I have started with STI we only had about 35 employees in Germany and a few in other STI countries, now we have about 254 all over Europe. I basically got to know STI from scratch. Based on my years with STI I understand the structures and what we do well. I have lots of contacts within the STI network and this all for sure helps my daily work and to support STI the best way possible.

Which main challenges do you face in your position?
The first thought that came to my mind was actually none as I like my job so much and simply enjoy what I do. However, there of course can be challenges at times but none of them really bugs me that much. It can become a bit tricky when several colleagues would like your attention and support at the same time. I guess this is something all of us face though. As my aim is to always help everyone basically immediately, it can be a bit frustrating at times as I unfortunately can not clone myself. :)

What do you like most about STI?
I love the diversity of my job. The opportunity to work with so many areas of the business and support my colleagues all over Europe is just cool. I learned a lot from having to work with different mentalities and cultures and I mean that in a very positive way. I also like the fact that I get the chance to develop and try out new things and in particular be creative. All in all – and this might sound a bit over the top for one or the other – but the job with STI is simply my dream job as I can use all my skills and knowledge. I find having the chance to really get involved in the business and put forward ideas and by that leave a little "foot print" here and there with your work is the best feeling you can get in a job.

Is there anything else you would like to tell us about your job or employment with STI?
I think I basically said it all. I reached my final job destination so to speak. And I hope that I can stay with STI up to my retirement. 😉 A BIG THANK YOU to everyone I work with. You are a great team and it is a pleasure to work with you all and what makes the work even more "fun".