"I like challenges and building Partnerships" - Lydia Hamaidia, STI France
About your Job with STI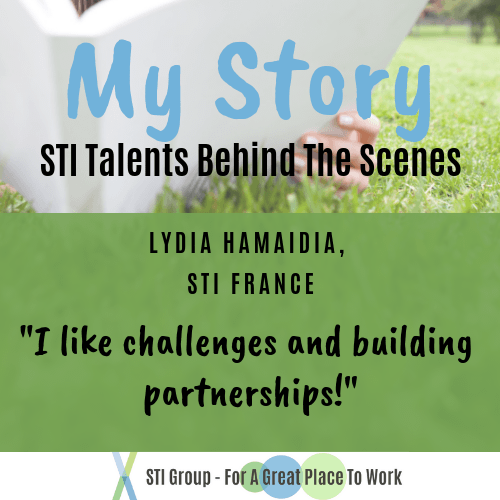 Today we would like to share the story of Lydia Hamaidia who works as Quality Assurance and Customer Service Manager at our French subsidiary STI France. Lydia started with STI as a trainee. Today she also is the team leader of the Customer Service department. Her story shows what is possible when you know what you want and work in an environment that acknowledges your skills and talents. Thank you for sharing your story with us Lydia.
Since when are you working with STI?
I started working with STI France in 2012

What was your first position within STI?
I basically started from scratch with STI, meaning as an apprentice to learn everything about logistics. The first position I held was to support the McDonaldís Operations department (planning and tracking).

What made you decide to apply for a position with STI in the first place?
STI was a young company with many opportunities. And I also like International Trade Freight Management a lot. This is also one reason why I decided to study Trade and International Exchanges and also have an bachelor degree for this business segment. To make use of this bachelor degree for my future career I needed a dynamic company and STI fulfilled my expectations.

You started as an apprentice with us in 2012 and your career within STI has developed very positively and lead to a promotion in 2018. To which position were you promoted?
I have been promoted to the position of Quality Assurance and Customer Service Manager and am now also leading the team.

Where you expecting this promotion? Meaning was the job offered to you or did you ask for more responsibilities?
Both. Iíve asked for more responsibilities and thatís what started it off. You can see where I am now. Smiles.

How did you feel, when you were promoted?
I was feeling very proud and ready to take on any challenges coming with this new position.

Please describe your main responsibilities of your current position.
In my position as QA of STI France I actually wear many hats and am responsible for several areas. This includes organising internal and external audits, our claims management as well as any Customer Service activities.

What are the main goals you want to achieve?
I would like to get to the point that we improve and strengthen our haulier base. In our business it is important that we have hauliers we can 100 % rely on anytime. Donít get me wrong, we already have good hauliers Ė of course, but there is room for improvement to reduce any risks and weaknesses in providing services to our customers.

What do you like most about your job?
I like the challenges and I like creating partnerships with all parties and contacts I have.

Which main challenges do you face in your position?
I have a new Team with many projects for the future and we wish to continuously improve our services. This means that we need to set up action plans with all parties involved to reduce claims and to strengthen the cooperation with Operations, Finance and our Sales department. At the same time we want to create a better reporting system for our customers and partners. As you can imagine this means a lot of alignment with lots of different departments and people to achieve all goals and this can be challenging at times.
What do you like most about STI?
As I already said itís a young and small company with a family structure and I enjoy working in this environment very much.

With your special experiences, what do you think you can best contribute to STI?
I know the company very well and due to the modern systems and working processes I can manage the responsibilities of my team in a much better way, which strongly supports the success of our company as well.

Is there anything else you would like to tell us about your job with STI?
Iíve met a lot of interesting persons, like my QA colleagues :-) , building partnerships with many colleagues and partners is something very rewarding.
About yourself - In a few words
What talent would you like to have?
Cooking like a Master chef !

Which words do you use the most?
"in fact"

Who is your favorite musician?
I like many styles of music…

A book that you would recommend?
CMR convention… no I'm kidding !

How do you like to spend your time off work?
Take advantage of my family and friends

Your favorite dish?
I like many dishes. I don't have a favorite one ;) For each travel I like to get to know local dishes.

Ideal place to lose yourself on vacation?
At the beach surrounded by mountains !

What makes you laugh?
By laugh you mean smile? If yes looking around me at the office on Friday. How relaxing are my colleagues because it's Friday J

A moment of happiness?
Enjoy the simple things with of course sunny weather ^^