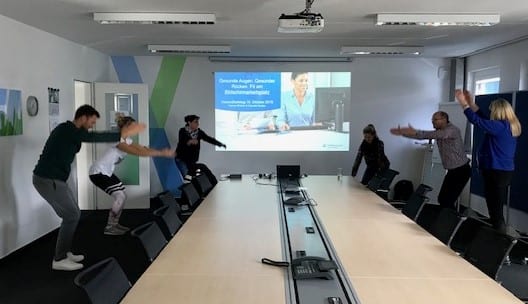 Staying healthy in particular when working in the office and sitting in front of a computer most of the time is important!
Last week our German team held its "Gesundheitstag 2019". This day was dedicated to the health of our employees and filled with interesting activities.

The team was not only able to participate in a screening to see how their backs are doing or in a workshop about how to stay "fit in front of your desk" by implementing some special and very effective exercise breaks during the long office day. The trainers also visited the workplaces to check if the office seat is correctly positioned, the PC screen is at the right height and offered advice what could be improved to have the right seating position while working not only considering our backs, but also our eyes. The special treat of the day was to benefit from a massage carried out by a specialists.
The day was a full success and our colleagues appreciated the opportunity to receive tips and tricks how to stay more healthy in the office very much.
This was the second "Gesundheitstag" that was organized. The first one took place in 2018 and there will be surely more to come. A big thank you to the German STI Management and organisers who made this special event possible!