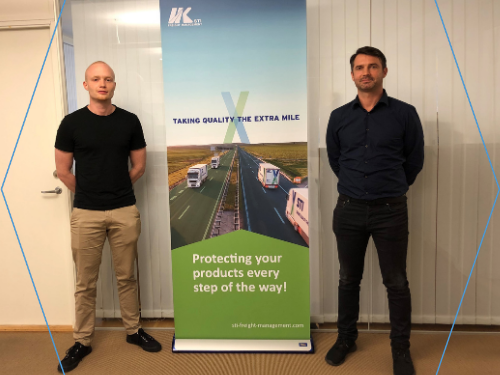 The Education of the next generation of professionals and supporting them on their way to their final job assignment is important to STI-Scandinavia. This is one of the reasons why Ulf Svanstam/Managing Director of STI-Scandinavia joined the management team of the Stockholms Internationella Handelsskola (SIH) in 2017. Since then the Swedish team also supports the school's internship program for logistics, forwarding and sustainability that offers a two-year education that combines theory and a large portion of internship/training. "It is important for us at STI to help and also to influence the training of logistics and forwarding professionals. The program at SIH contains an excellent mix of theory and practice, which is just what we are looking for as an employer," Ulf Svanstam says.

For the third consecutive year the Swedish team has just welcomed its two new students for this years' internship running from October 2020 to May 2021. "The students are already well prepared when they join us for their internship. I can say though that they will be even better, well actually outstanding when they leave us to graduate", Ulf Svanstam says with a smile on his face. "So far we have only made very good experiences and being able to help students along the way is really rewarding."

During their internship the students undergo trainings in all areas of the company, from Customer Service to Transport Planning. After a theoretical part to understand how the business is set-up and get to know the team the students will get involved in the day-to-day working routines to learn the logistics tasks by heart. "From my experience the theoretical part at the beginning of the internship is important for both parties, the intern and the supervisor, to be well prepared to start working "live" in our Freight Management Operations," Marja Somma, Operations Manager, confirms. "It helps a lot to put together the training schedule and help the student to settle in with us."

Our 2020 Students
This year's students are Martin Welander and Andras Lukacsi who started beginning of October. One week into the internship we have asked them about how they are settling in and what they expect from the internship which we are quoting below.

Martin Welander
What are your expectations and hopes after graduation?
My goal after graduation is to have gained a broad knowledge of the different roles that exist in the freight forwarding profession. I would like to try a few different roles and areas to get a feel for what suits me best. The most important thing for me is to have a professional role with variety and a lot of problem solving so that the work remains interesting and challenging.

The best thing about the education at the SIH is that I get an overall picture of the logistics and forwarding industry. Topics such as the English logistics vocabulary and environmental logistics are interesting. What unfortunately is not included in the theoretical studies is a more concrete understanding of the profession (IT solutions and practical operational experience for example). This is something that I am looking forward to learning at first hand during my internship at STI.

Your first week at STI ends today, what is your impression so far?
I have had a positive impression of STI from the first week. Above all, I have the impression that the cooperation and communication between the employees works very well and everyone supports each other in a good way. Another impression is that STI is a international working environment and business. This speaks to my heart and even relocating and working abroad for a period of time seems like a possible and fun experience in the future.

Andras Lukacsi
What are your expectations and hopes after graduation?
Well first I hope to be clear with the basic concepts of freight forwarding. I also hope to
understand the overall logistics process for a real client, preferably a larger global company. This and having a greater knowledge in logistics will hopefully prepare me well to operate a truck fleet and work within freight operations.

I would like to work as a freight forwarder after the internship period, which is also in line with previous experiences in the industry. It is exciting for me to drive the operational progress part of a logistics process.

Further on I would like to work in a team where I can solve problems that may arise, such as changes, ad hoc deliveries etc.

Your first week at STI ends today, what is your impression so far?
I really liked the variation of work that we have covered already. We have got an understanding of type of transport and freight forwarding, which provided detailed knowledge of the current logistics situation, such as short delivery times, driver shortages, track and trace, shipping prices, etc.

It is positive for me that the staff – my colleagues - at STI are nice and helpful. Everyone works together as a real team.

We are very pleased to learn that our students enjoy and in particular confirm that they are really gaining the knowledge that they are looking for. We will speak again with Andras and Martin at the end of their internship to see how they were doing and if any of it has given them the insights that they need to plan their professional future.
Thanks for sharing your feedback Andras and Martin! And thumbs up for STI-Scandinavia for supporting the education of young adults!