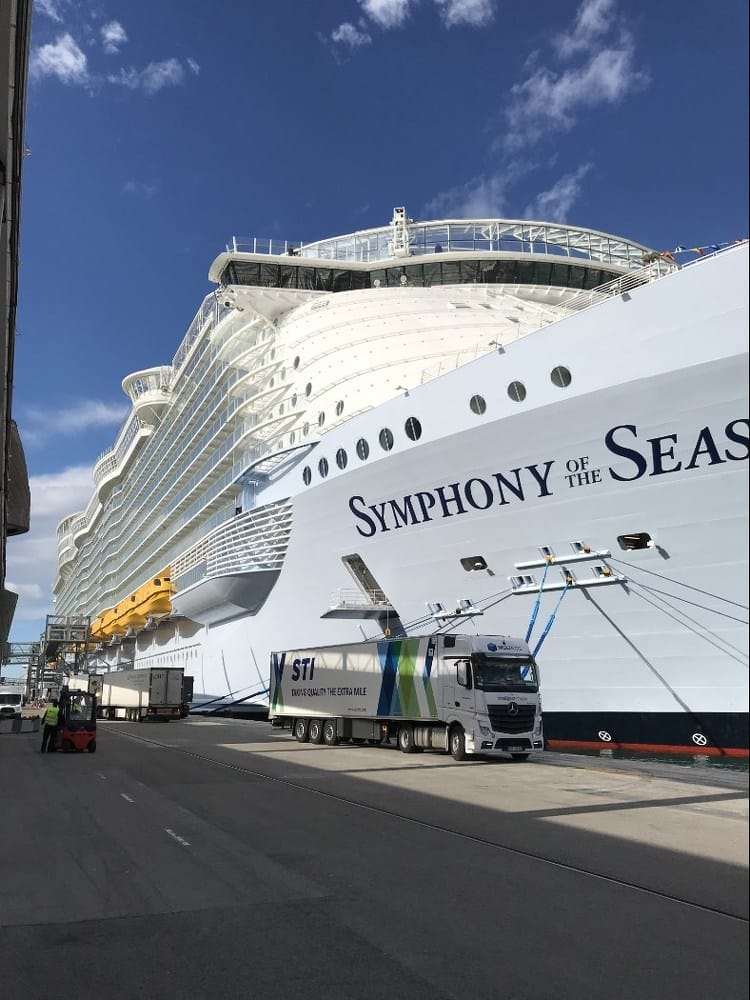 February 2019. Royal Caribbean Cruises Ltd. (RCCL) cruise ships are true giants of the seas: the largest cruise ship in the world, the Symphony of the Seas, is 360 metres long and 65 metres wide. Up to 6,800 passengers and around 2,000 crew comfortably fit on board. STI (Deutschland) GmbH is responsible for deliveries of food and supplies and many other products during the summer season. Our subsidiary in Duisburg delivers goods in all temperature categories via truck to the seafaring giants as they journey across Europe. "We're happy to have received the contract for deliveries to the ports harbouring RCCL ships for the third time in a row", days Drazan Malesevic, Managing Director of STI Germany.
The four-member team at the "Control Tower" in Duisburg works exclusively for the client to ensure that all transports are completed reliably and efficiently – from the acceptance of an order, scheduling and route planning, through to the delivery to the ship. Furthermore, drivers specially trained for the exacting demands of cruise ship logistics work for STI and call at 43 ports throughout Europe.

The multi-temperature trucks used can transport frozen, fresh and unchilled goods all at the same time. Regardless of whether it's Barcelona, Amsterdam, Copenhagen or Rome, STI can leverage its well-developed European network. "We coordinate transports together with our STI subsidiaries in Spain, Sweden and Italy. That means that we can always deliver goods to the harbour safely and on time, even at very short notice", Drazan Malesevic explains.