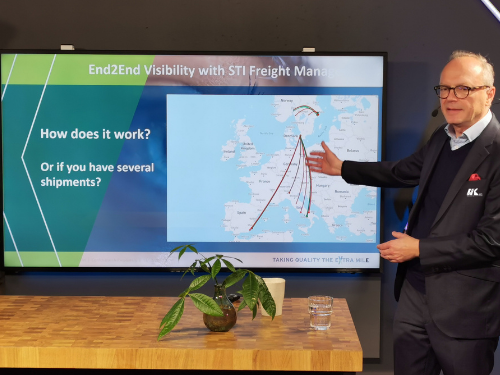 Our Swedish subsidiary STI-Scandinavia AB participates in the Nordic QAforum for six years now and this years forum was different from any other due to the ongoing COVID19 pandemic. Not only joined 140 delegates from pharmaceutical companies in five countries - Sweden, Finland, Denmark, Norway and Iceland - virtually and the speakers were broadcasting their topics live from a studio in Stockholm by adhering to social distancing rules, also the agenda focused on the COVID19 impacts and how important it is to guarantee safe and reliable transport solutions during these times.
Ulf Svanstam, Managing Director STI-Scandinavia, had the opportunity to present the STI End-2-End Visibility platform to the virtual audience and by doing so also again put emphasize on how important it is for STI to make sure that all goods transported are 100 % safe. One can imagine that the introduction of our End-to-End Visibility Platform and by that offering more transparency to our customers was well received by the participants. Giving easy access to track and trace the status of a transport by providing real time information about the trucks location, estimated arrival times as well as goods temperatures offers a real value add to STI customers and proves that STI always is willing to invest to go the extra mile for its customers to offer high end logistics solutions.
"The annual participation in the QAforum allows us to meet and exchange knowledge, news and excellent ideas with stakeholders of the pharmaceutical industry. At the same time Medical Product Agencies (the Governmental Authorities for each Nordic country) are present and inform about best practices as well as answer questions from the delegates relating to GDP, GMP, etc. Being part of this community allows us to stay informed about the current and coming changes of rules and regulations relating to the transportation of pharmaceuticals," Ulf Svanstam says. "Last but not least it also enables us to access an excellent network of the pharmaceutical industry!" STI - Taking Quality the Extra Mile.
Learn more about the Nordic QAforum here:
https://www.nordicqaforum.com/